LJAF is committed to leveraging the power of data, research, and innovation to improve community safety by reducing crime, increasing police effectiveness, and working to ensure that laws are enforced in a fair and equitable way.
Individuals experiencing mental illness, substance use disorder, or homelessness require evidence-based, preventive treatment to achieve improved outcomes. Too often, the needs of these vulnerable populations are not only unmet, but inadvertently worsened by emergency response systems. Governments need better data, tools, and systems to direct vulnerable people to appropriate and effective resources outside the criminal justice system.
We are hoping to identify evidence-based policies and programs that can reduce the use of force, arrest, and/or incarceration, and connect vulnerable populations to evidence-based treatment and services.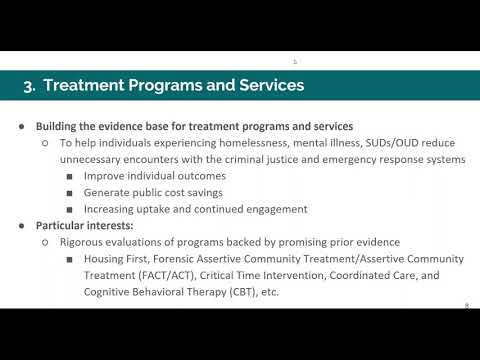 LJAF Webinar: "Reimagining America's Crisis Response Systems"
Watch our webinar on our request for proposals on "Reimagining America's Crisis Response Systems." Webinar includes an overview of the Laura and John Arnold Foundation, the goals of the RFP, a review of the solicitation, FAQs and a review of next steps.